Today's post is for my local Cincinnati/Tri-State people! I love finding local places with great finds (Bargains and Buyouts is a great example) and sharing them with you all. 
There are now 14 Restoration Hardware outlet warehouses in the United States and we are so lucky that #14 just opened 45-minutes north of me in Centerville, Ohio. It's been open for just under a month now and last weekend we loaded up our gaggle of humans to go check it out.
Location:
985 South Main St.
Centerville, OH 45459
937-291-0584
Hours of Operation:
Sunday 11am – 6pm
Monday – Saturday 10am – 8 pm
Cash and credit are accepted
Delivery services are available
What:
My first item of investigation was to understand if this store was selling actual Restoration Hardware items at a discounted cost, OR if it were one of those "factory" stores like J. Crew Factory, Coach Outlet that manufactures reduced quality goods for a "reduced" price specifically for their outlet channels. ICK. Well, I have good news. This location is selling actual RH items that can be found in the catalog today, but are reduced due to overstock, returns, small blemishes, etc. SWEET!
What You'll Find:
This specific location has an enormous amount of furniture for sale. The space is huge and I would say 60-70% of the footprint is for furniture, mainly sofas. I also noticed a lot of RH Teen items in here as well, like this lounger that I'm currently crushing on.
Now, this is not the place where you're going to find that deal of a lifetime. When it comes to these Restoration Hardware items, I would say you are getting a 40%-ish discount on the retail price. Sofas are going to be in the high 1,000's (they're typically in the high $2K – $4K). Just passing that information along for those of you in that target market (definitely NOT ME). I was most interested in their rug selection. RH rugs are notoriously insane, likely because they are hand-knotted by the Prince of Egypt using only gold string and diamond twine, or something like that. But they are so good! Prices were still insane to me. None under $500 (for a 5′ x 7′).
The most impressive part of the entire store to me was their lighting section.
As you can see, nothing is on display and you have to dig through the boxes, but they had so much! Lots of pendants, huge chandeliers and table lamps. And I thought the prices on the lighting was pretty good. For example, they had several of these boom sconces (on sale now at RH.com for $355) for $100 each. I'm regretting not taking one home for myself.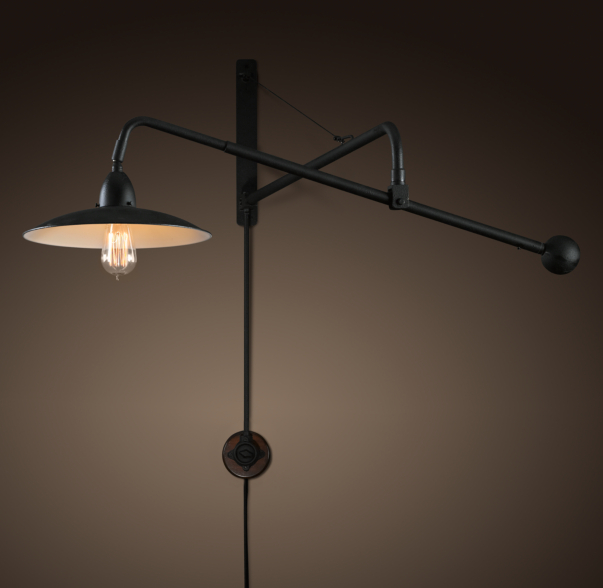 I was also thrilled to see a little section devoted to RH Baby & Child. 
That trestle play table is beyond cute and I thought the price was somewhat appropriate – $419. The website has it marked down to $479 too though, so not a huge difference. The biggest savings here would be on shipping! And, the white is no longer in stock.
What else can you find? Well, I always tell everyone that if you want to splurge on something, choose RH towels. They are DIVINE. And they had a whole wall of them! They also had bedding. Still crazy priced, but if you're into French Linen (who isn't) they had it in spades.
So that's it! Maybe you're intrigued enough, you'll go check it out. People always ask me my opinion on Restoration Hardware. It's pricey, but is it worth it? In my mind, they sell a lot of things that can be found elsewhere for MUCH, MUCH cheaper. IKEA has linen bedding. Target as Tabouret-style metal chairs. Heck, even Home Depot has industrial pendant lighting. I buy RH items (outlet or not) only if I believe that 1.) it's a statement piece and 2.) it's a style of item that can't be found anywhere else. Then, that to me makes it worth it. Probably the best example of this is my brass rivet mirror in my ostrich bathroom. Hard to find anywhere else and makes a big statement. It also helped that it was on super sale.
Happy shopping!
xo,
emily