We've officially owned this home for a month now and it's feeling SO much better than those first couple of days. It smells like us, our things are somewhat put away and we've settled in to new daily routines. Last post I shared with you the living room and entry way and today I have the kitchen/dining/laundry room space to share with you.
This is the view from our front door to the kitchen. Every room is visible from this standpoint and it's one of the reasons I love the house so much. It's open in an old home kind of way. It's fun to be at the kitchen island at the back of the house and be able to see the goings on outside on the sidewalk.
As you make your way down the hallway, the kitchen island is the first thing you see. A quick turn left is a big bank of cabinets, our appliances and the main sink.
Eventually that little rug will be replaced by a long runner. I love the color though… just need to find something longer and skinnier. Finding a new location for those dog bowls is also on our list (we spill them, trip over them nightly).
Anyways, the big to-do in this space has been unearthing and organization. I say unearthing because 95% of our wedding gifts did not fit in our old house (and especially not in our kitchen). It felt like Christmas morning to be able to go through all of our gifts and find a space for each item. We filled this kitchen up in no time!
Above is another look at the bank of cabinets with all of the appliances. I'm breaking my 3-things-on-the-countertop rule here but we'll get there eventually. That white box by the paper towels is our security system panel. We've got to figure out how to mount that somehow to get it out of the way. We followed the same rule organization-wise as we did in our other house: display the pretty stuff behind the glass fronts and hide all the junk behind the solid doors. 🙂
Just beyond the island is our back door, a laundry "room" (really a closet!) and a half bath. A big part of our to-do's this last week was getting that washer and dryer installed. We (Aaron) did it ourselves! I am weirdly proud of that. Successfully fixing/installing anything that could leak water is nothing to sniff it.
The washer and dryer was a big task all in itself. We swore up and down the builder told us to buy front loaders (we think we heard wrong), so we did and when they arrived they did not fit! Well they fit… we did measure… but then the doors could not swing open. D'oh! Lowe's would not complete the installation because it involved stacking and wrong hoses and a too-short drainage hose… it was a little bit of a mess. But in the end, it all worked out.
We're tall people so it's nice to have at least one appliance (the dryer) high up but the best part? That little nook you see to the right of the machines is going to be perfect for storing all of our laundry supplies, doggie food, tools… you name it. We are thinking top to bottom shelving. It will be removable shelving so that we still have access to the back of the machines and the water hook-ups, but yea. The storage will be nice.
And we need the storage. BAD. Check out this big 'ole mess…. These are things waiting for their new home.
Just beyond the kitchen in the same space is the dining area. I would say we're magazine ready.
Ugh. We're on the hunt for a dining table (or maybe a DIY?) and chairs, but we don't want to rush it. We want forever pieces that we love so for now, a card table and a bunch of plastic IKEA chairs will have to do. Oh yea, and a coat rack. We need a coat rack.
So now that's officially the first floor. My mind is racing about what I want to do in this space, especially the kitchen! My mind is set on these barstools: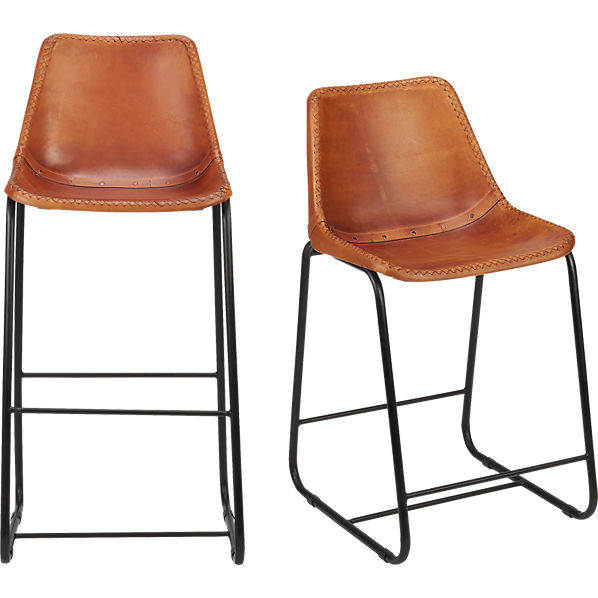 Anyone got $1300 to blow on some leather bar stools? Sigh….. I do have a savings envelope set up for these little darlings believe it or not.
I also am considering moving over my big Edison chandelier from the other house….
And the WALLS! I want to go a very light beige or tan. Remember, I'm still on this long journey to warm and funk this house up!
OK, that's all I got for now. The master bedroom will be next! Everything else is still a mess!
xo,
emily