We've been working on the nursery on and off since Christmas now. We're nowhere near done, so before I get too far (or finished!) I wanted to share my plans for the room. Let's just get right to it shall we? Here is the design we're working against for the boys' room. It took awhile to get here (I share the evolution below) but we're here and we're happy!
Before I get in to the details of the space… let me start from the beginning…
The room we chose for the nursery is our second largest bedroom. It has great closet storage, two bright windows and a fireplace. Sheer size of the space made this room the winner. This gives us enough room for two cribs, a spot for a glider and lots of floor space left over. Aaron and I are the next room over.
For whatever reason, getting this room right feels so important. I think it's a control thing. Putting this room together is the only part of the whole pregnancy process that I really have some control over. My body? Nope. These babies? Nope. So control it I do! It feels good. 🙂
The design plan overall has certainly been an evolution. Before Christmas, I was 100% on board the neutral/rustic train and below is the design plan I was working against.
While the neutrals were great, what I wasn't getting right was that this was supposed to be a room for little babies… who will one day be toddlers… and this room, well… it felt a little too adult. Aaron agreed too. All of the fun and brightness was missing.
And while the design plan wasn't working, there are some elements that I still love to this day. We now have two of those cribs that are pictured above—the BabyMod Marley crib in all Walnut—as well as the "Smile" print, which used to be in our bedroom at the old house. I've also been crushing hard on the Miffy lamp, which you'll see in all of these evolutions. If we need a nightlight, why not have it be a 20″ tall bunny?
In late December, I found a great rug at Bargains & Buyouts and decided to just jump in and start making my decisions off the colors in the rug. The colors are much more vibrant in person than the photo below, but I liked that the colors bridged that gap between adult (grey, army green) and kid (blue, light blue, orange). And for $99? Sold.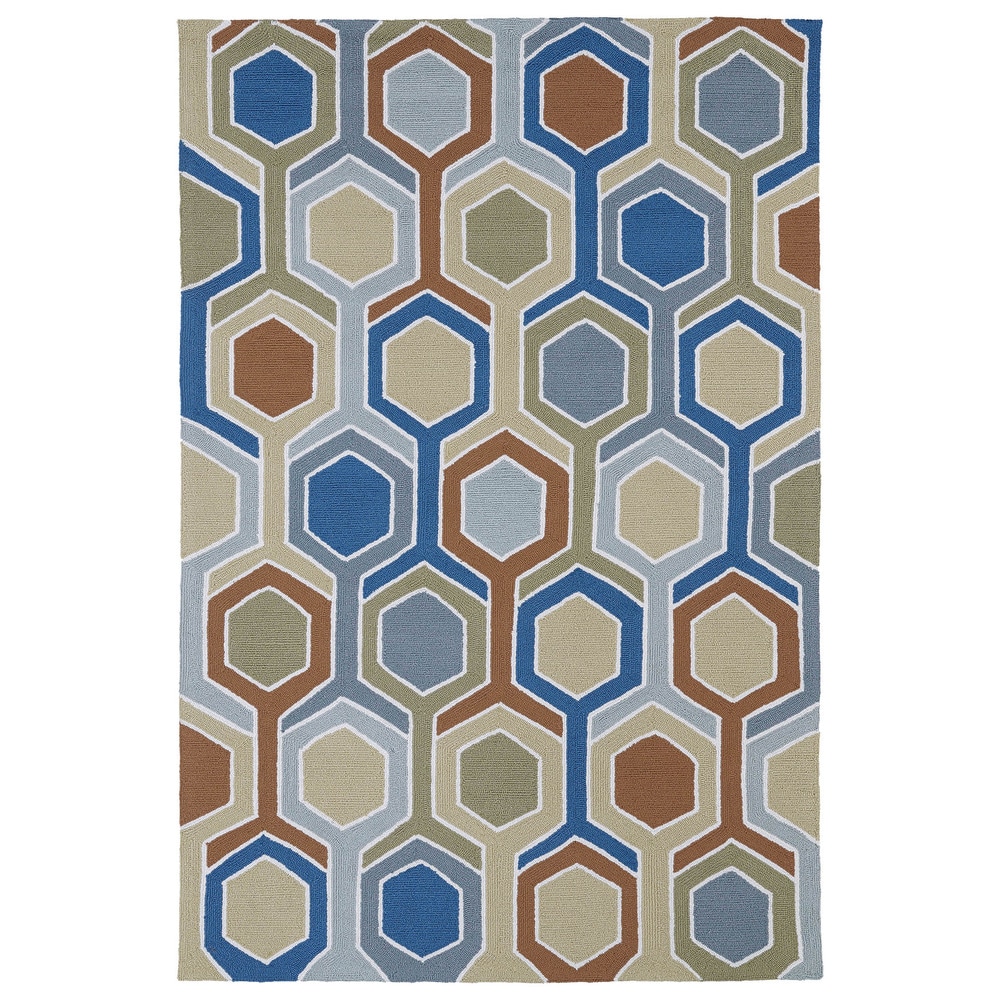 The rug itself is called the Fiesta Multicolored Rug and it's still available via Overstock.
With this rug at the center of our minds, here is how the design plan evolved. This was probably around January. Better! More color… more character… fewer random items.
Now, keep in mind that this design plan features the $1200 Emmerson dresser from West Elm. I friggin love it, but I can't bring myself to spend that kind of money on a dresser. On diapers and day care? Yes. On a dresser? No. I've been searching for something similar for weeks now and kind of gave up. Plus, the dresser was the last remaining artifact from the month's previous neutral obsession and I was ready for a little more color.
So just in the last few weeks, here's where we've ended up. And this is where we'll be!
The blue campaign dresser is our most recent addition to the space. It certainly adds color (Georgian Bay by Sherwin Williams) and fun. Did you see it on my Instagram yesterday?
And for just $50, it seems like a more appropriate choice for many years of two wild boys. This is the dresser that I thought I was going to put in the guest room, but after painting it, it felt so much better in the nursery. Phew! It's much taller than what's pictured in the board with 6 drawers total. The changing station is elsewhere… I'll share more on that later.
My next big project for this space is getting the walls white. We picked an off white called Swiss Coffee by Benjamin Moore. Now that I'm in my third trimester, the idea of painting a space this big makes me want to barf, but it's only a matter of time before I get my next burst of energy. Plus, I'm getting lots of help these days.
So that's where we are! As soon as I get these walls painted, I will share some pics!
xo,
emily