How many times have we headed straight to the bathroom aisle at a store when we're in need of a shower curtain? Why do we do that? Are there only certain types of fabrics (or in some scary cases, vinyl) worthy of sheltering our bathrooms from a watery spray? Certainly not! And still, we limit ourselves to the options provided in the much-to-be-desired shower curtain section at the store, spending precious minutes of our life deciding between "eh" and "sorta eh" options. And, to add insult to injury, the shower curtains are all too short! Way too short! We've been duped, folks, and I have also been a victim. This is sort of like the time we swallowed down a big bag of Wow! chips at a slumber party right before learning about the hidden, very active ingredient and ruining our favorite pair of Pocahontas pajamas in the process. Ahem.
Now, let's get serious. There are many, many options for shower curtains that live outside the bathroom aisle. Before we begin, there are some things to consider:
1.) Consider raising up your rod to get the ceiling-to-floor look. It improves the bathroom design every single time. It adds height and space. It adds subtle drama. Go do it right now.
2.) You will need something at least 60″ wide. Something in the 70+" range is more desirable, but 60″ wide will work. The closer to 60″, the more your shower curtain becomes a flat hanging panel and less of a folded curtain. The height depends on your ceiling height, if you're following rule #1. A typical shower curtain is around 72″ x 72″.
3.) You will need clip-on drapery rings. They typically come in packs of 7, you will need 14, so get two packs. I like Bed Bath & Beyond's oil-rubbed bronze clips.
4.) If you do not raise up your shower curtain, I will still love like you and all of these alternatives will still work for you. I will, however, shame you with these photos of beautiful (and long) shower curtains: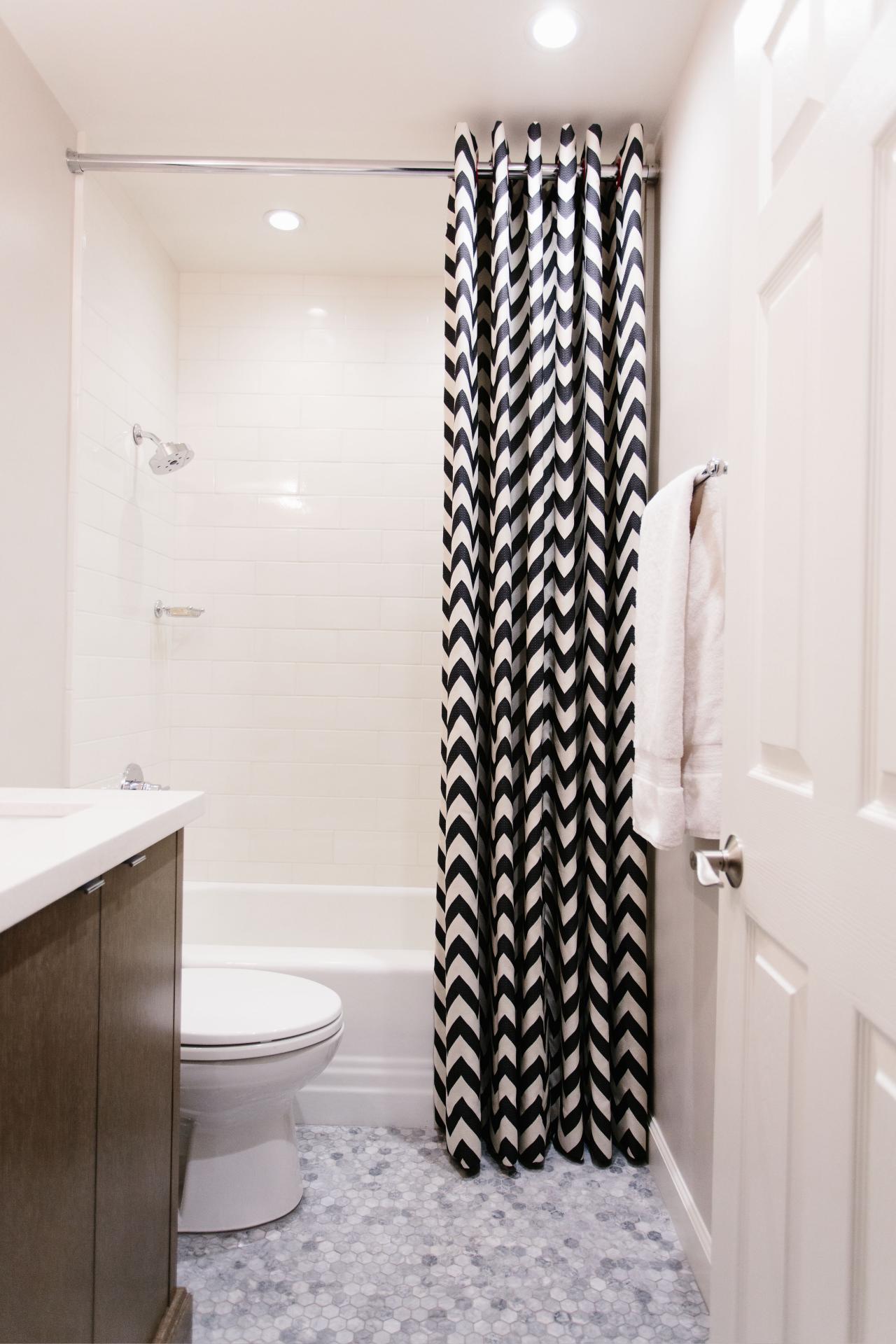 Did it work? Here are the 5 types of fabric or curtains to consider or search through when wanting a new shower curtain.
1.) Curtain panels
2.) Fabric
3.) Tapestries
4.) Sheets
5.) Tablecloths
Do you think I am crazy yet? Bear with me.
First up are curtain panels.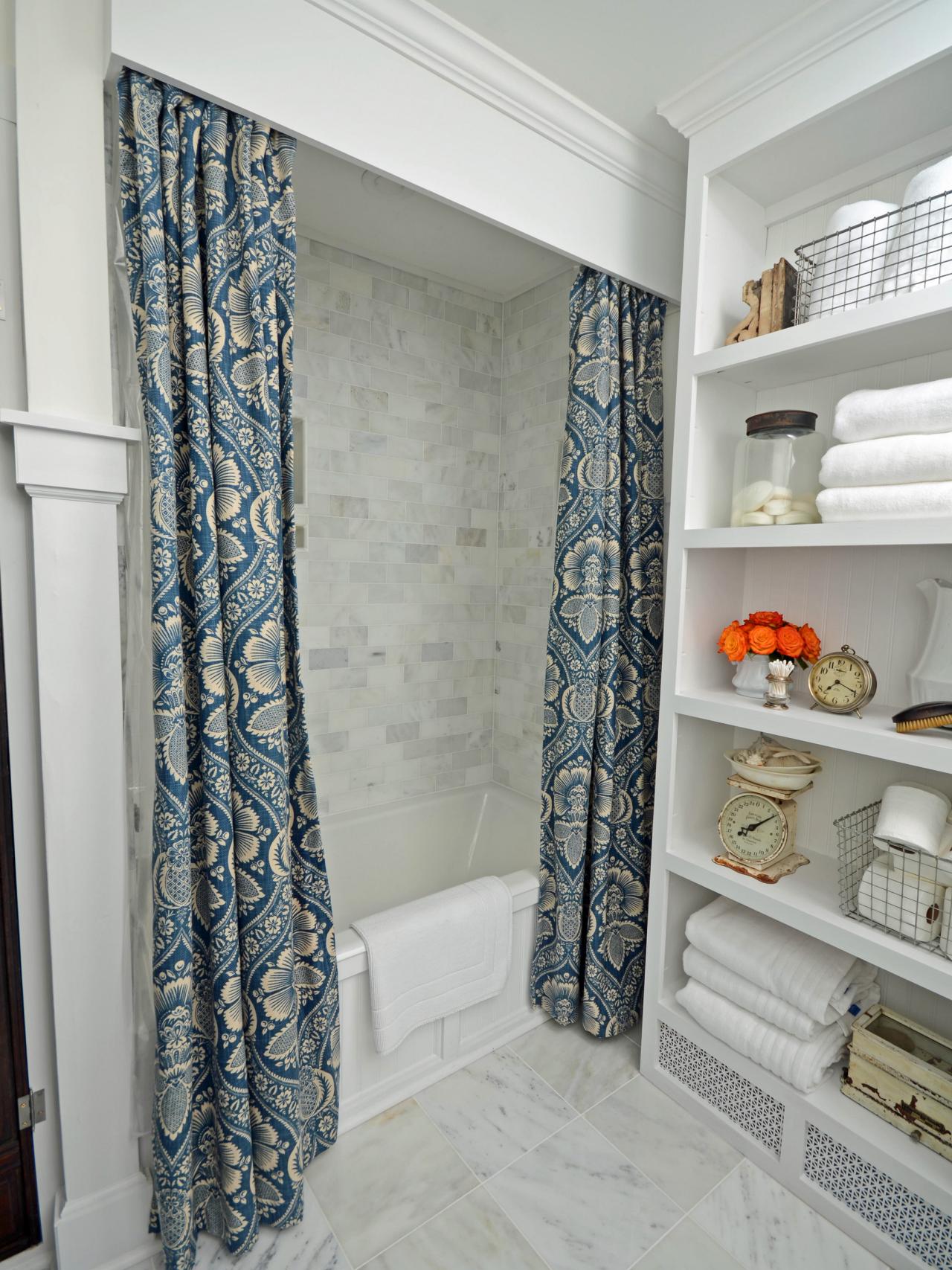 Some things to note about curtain panels:
Great because they come in a range of lengths
Relatively inexpensive
Requires no sewing or cutting
Good fabric weight (heavier vs. a sheet or tablecloth)
Because of width limitations, you'll almost always need two panels
The two panel look above is very popular these days, but you could also put two panels side-by-side and still look seamless
Now, using fabric.
Some things to consider about using fabric:
Custom size

Yardage can get expensive

Requires sewing and cutting

Tons of options available in a 60″+ width

Get really crafty by adding some yardage to an existing, shorter shower curtain (here's a good example)
Next, tapestries.
Some things to consider about tapestries:
Tapestries are big enough (around 90″ x 110″)
Some sewing and hemming required to cut to size
Harder to find (although Urban Outfitters has some great options here)
Perfect fabric weight (heavier – almost like home decor weight)
Now, sheets. Oh sheet!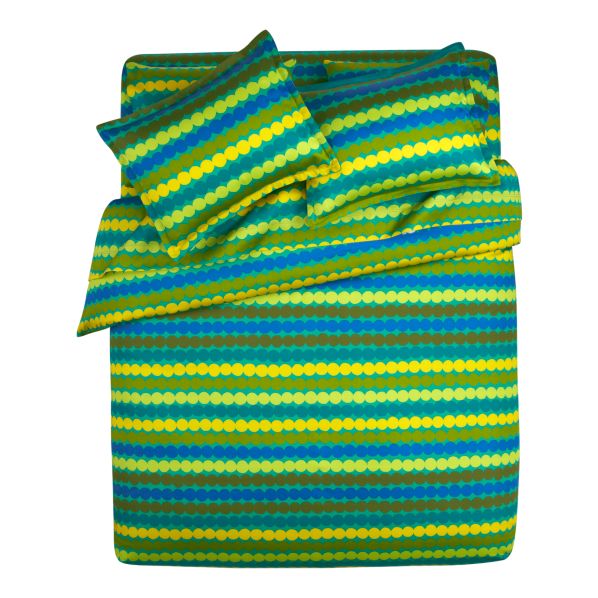 Some fun things about sheets:
The college XL twin sheets (now heavily advertised everywhere for the back-to-school season) just happen to be the perfect size for a shower curtain at 66″ x 96″.

I am loving these, pictured above.

Cotton sateen sheets are water resistant (who knew)

Requires some sewing and hemming

If you buy a sheet set, not only do you get a new shower curtain, but a new fitted sheet (to match with a color-coordinated flat sheet) and pillowcases! Two new presents in one!
Finally, tablecloths.
Some quick things to note about tablecloths:
Come in different lengths, but carry a 60″ width

Typically water resistant

Might not require any sewing or hemming

Harder to find, but Crate and Barrel and Anthropologie always have great choices

I know it works because I've done it!
What do you think? I love the idea of doing the sheet so my bed can get a mini-makeover too with the remainder of the sheet set.
p/s: Yes, many of these ideas include hemming a too-long side of fabric. And no, I don't sew. I use heat bond hem tape. Young House Love did a great video tutorial, using a crib skirt to demonstrate, here. You can do it! It's easy!