Well hello all… in true Emily fashion I'm posting house goals nearly a third of the way into the year. That's just how it goes around here! It does take me quite a bit of time to figure out my to-do list. I have to be careful about what I put on paper, because for whatever reason, when it gets written down, it becomes an all-out war to get it completed NO MATTER WHAT. And I need to do a better job of protecting my sanity. 🙂
Alright, house goals for this year. (And if you're curious, here's how I did last year.)
I am going EASY on myself this year. 1-2 big projects and several smaller projects. I need to be a bit more responsible with my time, my design work is so crazy right now (which is a good thing!) but I also don't want to lose opportunities to make some good progress on my own house.
Big Project #1 – New flooring on the first floor
Guys, it is time. This flooring is literally crumbling beneath us. The gaps to the basement (yes that's the basement you see through there!) means it's FREEZING in on the first floor in the winter. Plus it's hard to keep clean (and for a clean freak like me, this is paramount). I could go on and on about these stupid floors. They drive me nuts. The dark stain means every. little. thing. shows. And these photos were taken after they've been vigorously mopped.
The floor is actually the original pine floor (no sub-floor, the cracks go right into the basement) and its age combined with its softness means it's gotten the beating of a lifetime both from us and our kids. And we've only been here 3 years! I have been waffling on which way to go (modern wide planks or more period-appropriate option) so that has got me on hold. I'm also trying to understand how this will impact the cabinets/countertops we'd like to add in the kitchen, but that's another post for another day. I don't think we will have the budget to do both and right now the floors are giving me anxiety much more than our crumb-fest black granite. (If anyone local needs 10′ of solid black granite, please let me know. For those of you that are into visible crumbs 24/7… just kidding! Sort of!)
I either want something like this (this is Emily Henderson's living room):
Or something like this (this is a Studio McGee project, their Parade home):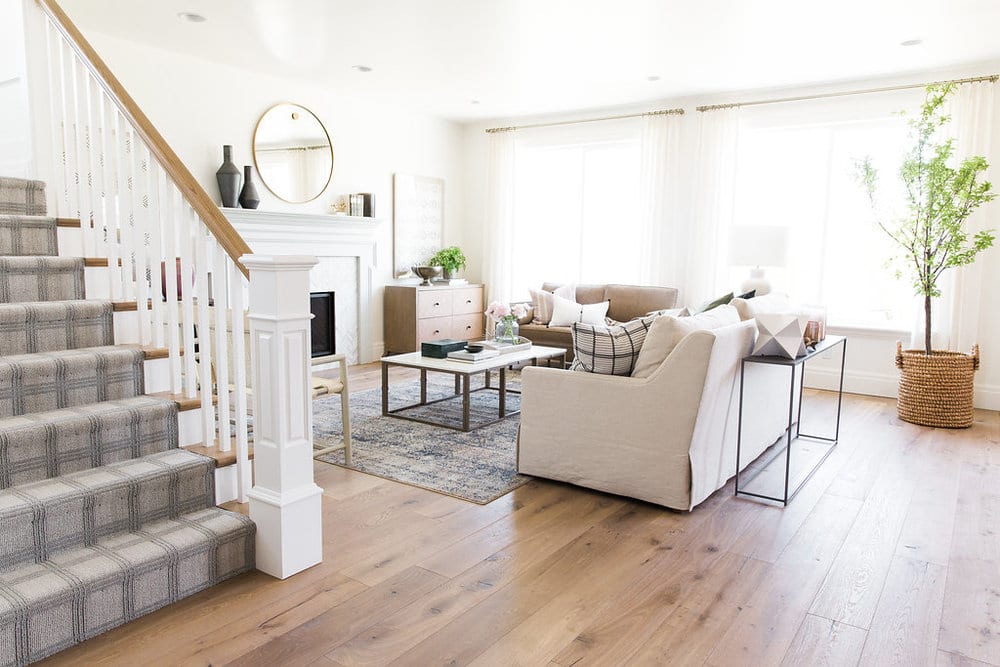 The herringbone feels more period appropriate (our house is nearly 120 years old) but I know most contractors around here would poo their pants with that installation (plus I have wavy floors, which is a no-no with any install but definitely with herringbone!). So I might be swayed… we will see. It all comes down to the $$$$$.
Big Project #2 – Convert the twins' nursery into a big boys' room!
It feels a little silly to say "nursery" for my nearly 3-year olds, but they are still rocking their cribs, so technically it's true! Their room has not changed at all since I unveiled it three years ago, maybe with the exception of some art and the DIY growth ruler. Ok, and a lot more toys. It's time for a change! We are heading south for vacation in June, where they will be in big boy beds, so I'd like to make the transition here at home to get some practice in.
Wall color – I painted these walls cream when I was having a major Lauren Leiss (one of my favorite designers!) moment, but unlike her, I just cannot pull off the creamy/sepia look if my life depended on it. So these walls will most likely go white white, instead of the cream they are now. These are painted in Lauren's favorite color, Swiss Coffee by Benjamin Moore, and while very pretty, I'm yearning for something more fresh!
Beds – I think we are going to skip the toddler beds and go straight to twin beds. Lord help us! I have been eyeballing these Beddy Beds to help making beds a breeze.
More things will be changing too… perhaps the rug, pictures on the walls and some solutions to super kid-proof the space so once free reign is given, everyone stays safe. We've got sliding closet doors for example that may need some ingenious kid-proof solutions.
Small Projects
There are several small projects/quick fixes that I'd like to tackle this year:
Replace living room light with this magical, grasshopper-style light
Paint kitchen white to match other half of kitchen/dining (*smacks forehead*)
Fix drywall in kitchen ceiling above sink (it's been like that for two years! no shame!)
Add kid proofing to the backyard (we've got a stairwell that needs a guard added) – This one is DONE! I'll share soon.
Continue to work on bedroom (still waiting for our bed to come back in stock)
And that's my year! I'm sure I'll cram some more things in there, but I think this will be more than enough to keep me busy along with everything else I've got going on!
Much love!
xo,
emily